Orient Divine DC Inverter
Get the fastest and most efficient cooling of your life with Divine Inverter air conditioner that is energy efficient to an extreme and offers 4D Air Throw and an indoor unit that is bigger than most! The Gold Fin evaporator and condenser ensure rust-free operation for the longest time possible and smart features like WIFI and others contribute to the smart lifestyle we all crave!
Key Features
Gold Fin Evaporator & Condenser
R410 Eco Friendly Refrigerant
For All Weather (Heat and Cool)
Biggest Indoor Unit (1.1M)
The absolute beauty and grace of the indoor unit comes in a bigger form than ever before. 1.1M in size and several times more in function, the indoor unit is perfect for its function.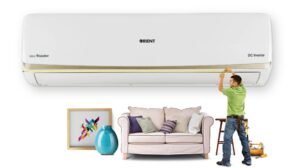 Sleek & Stylish, Elegant Design
Orient E-Comfort Air Conditioners are gorgeously sleek and offer a modern AI interface that gives you a device that is smarter than anything you've encountered before.
Good Sleep with Autopilot
Energy saving & convenience have been kept at the forefront for the device as the air conditioner turns off when optimum temperature is reached without any manual command.
Smart Clean
Built-in Auto Clean feature clears the evaporator from dust and odors, which enhances the AC's performance and saves maximum energy.
Innovation in lifestyle
Revamp the way you live & use E-Comfort Air Conditioner to revolutionize the present & pave an evolved future.
Rated Power Consumption (c)
---
Rated Power Consumption (h)
---
---
---
---
---