Orient Ac 2.0 Ton Inverter
Beautifully sleek white design of Mega air conditioner is accompanied by smart features at the most affordable price. Breathe fresh and easy for a long time as the Gold Fin evaporator and condenser is durable and long-lasting. With R410, your air conditioner is energy-efficient and as well as environmentally responsible.
Key Features
Gold Fin Evaporator & Condenser
R410 Eco Friendly Refrigerant
For All Weather (Heat and Cool)
Biggest Indoor Unit (1.1M)
The absolute beauty and grace of the indoor unit comes in a bigger form than ever before. 1.1M in size and several times more in function, the indoor unit is perfect for its function.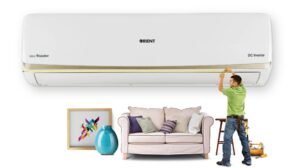 Sleek & Stylish, Elegant Design
Orient E-Comfort Air Conditioners are gorgeously sleek and offer a modern AI interface that gives you a device that is smarter than anything you've encountered before.
Good Sleep with Autopilot
Energy saving & convenience have been kept at the forefront for the device as the air conditioner turns off when optimum temperature is reached without any manual command.
Smart Clean
Built-in Auto Clean feature clears the evaporator from dust and odors, which enhances the AC's performance and saves maximum energy.
Innovation in lifestyle
Revamp the way you live & use E-Comfort Air Conditioner to revolutionize the present & pave an evolved future.
Rated Power Consumption (c)
---
Rated Power Consumption (h)
---
---
---
---
---