Efficient wash & dry in 1 go and in only 60 min.
Now you can wash and dry a load thoroughly in just one hour. This programme is suitable for lightly soiled clothes and for washing and drying heat resistant textiles, such as cottons or linen. Maximum load 1kg.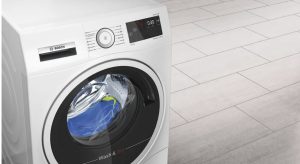 Best workout to wash & dry your sportswear.
Ideal for effectively and efficiently washing and drying sport textiles, such as microfiber, fleece and synthetics. These kind of textiles don't usually get heavily soiled other than sweat, so only a short wash and rinse cycle is necessary, resulting in a short programme duration. Sport clothes are often made of synthetic fibres and so can easily crease, the temperature in this programme is therefore reduced by additional filling of water before spinning.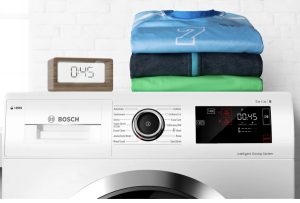 Wash up to 65% faster without compromising results.
SpeedPerfect is a special fuction developed for situations when time matters. With SpeedPerfect you can reduce your washing time by up to 65%* without compromising results. It can be used in combination with most of the programmes, all loads and textiles. For example, by selecting the mix programme in combination with SpeedPerfect, you can throughly wash up to 4 kilograms of mix load in just 41 minutes.  (*Difference between the duration of Easy Care Programme 40°C and the duration of Easy Care Programme 40°C in combination with SpeedPerfect option.)
Extra hygienic washing, even for your delicate garments.
Sometimes clean is just not clean enough. And garments, like baby garments, might be too delicate to be washed at high temperatures. You can  take special care of them with the hygiene care programme suitable for laundry which is only allowed to be washed at low temperatures. When activated, the dry clothes are heated up to 65°C  -that fabrics can resists -to kill germs and bacteria on dry laundry, followed by a low temperature washing cycle for an extra  hygienically  clean laundry . The result: safe and hygienically clean results even for delicate garments.
Specifications
General
Built-in / Free-standing
Free-standing
Main colour of product
White
Maximum capacity in kg in a wash cycle (EU 2017/1369)
10.0
Maximum capacity in kg in a Wash/Dry cycle (EU 2017/1369)
6.0
Type of control setting and signalling devices
7-segment display, LCD, push-button
Additional operational options
allergy plus, down, Drum clean with reminder, mixed load, MyTime, My Time, quick 15′, Refresh, rinse/spin/drain, shirts/blouses, sportswear, Wash & Dry 60′