Specially quiet and durable.
The innovative AntiVibration side walls are specially designed to provide more stability and optimally reduce vibration.The enhanced insulation also regulates noise levels, making Bosch dryers specially quiet even for an undisturbed night's sleep.
ECARF certified: Our dryers are ideal for allergy-sufferers.
A specially designed drying cycle reduces allergenic residues as far as possible. This means fewer pollen particles, animal hairs and dust mites in your dried laundry. Our dryers, which are ideal for allergy-sufferers, have therefore been awarded the ECARF Quality Seal.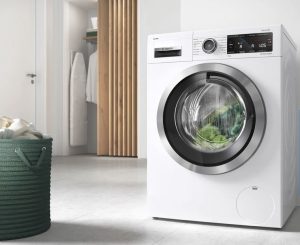 Quick 40' drying
Fast drying within 40 minutes, suitable for a small amount of synthetic fibers and thin fabrics, high-precision temperature control system, real-time monitoring of the degree of dry and wet clothes, you may wear the clothes immediately after drying done.
Technical Specifications
Main colour of product
Silver
Type of control setting and signalling devices
LCD, push-button
Additional operational options
Allergy Plus / Hygiene, downs clothes, Mixture, Shirts 15, Sportswear, Super 40, Time program cold, Time program warm, Woollens finish
Noise level
64 dB(A) re 1 pW
Water drainset accessory
Yes