Orient Ac 1.5 Ton Inverter
With its sleek and stylish design, the Ultron Bold Ultra White is the perfect embodiment of the modern cooling machine. Not only does it add an oomph factor to whichever room it's installed in, but its rust-free blue and gold fin give it a touch of uniqueness. It doesn't lack on the performance front, either. The 'Smart Edition' as it's called – gives you access to its consumption data so you can schedule how often you want to turn the AC on or off. Its low voltage operation and Electricity Consumption Management system gives you energy savings of up to 60%. All in all, it's the cooling machine you can trust on the most sweltering summer days.
Key Features
High Gloss Dual Injection indoor: Biggest Indoor (Available in Market): Factory installed Wi-Fi Kit: Built-in Energy Meter: Electricity Consumption Management: Online Control: Schedule Management: Bigger Outdoor: 50 Feet long Air Throw: Low Voltage Operation (Startup at 140V): Heat and Cool: R-410A Eco Friendly: Made In Japan Digital High efficiency Chip: Double Layer Condenser: Up to 60% Electricity Saving
Biggest Indoor Unit (1.1M)
The absolute beauty and grace of the indoor unit comes in a bigger form than ever before. 1.1M in size and several times more in function, the indoor unit is perfect for its function.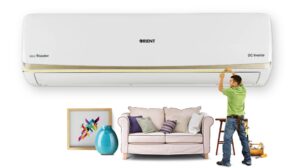 Sleek & Stylish, Elegant Design
Orient E-Comfort Air Conditioners are gorgeously sleek and offer a modern AI interface that gives you a device that is smarter than anything you've encountered before.
Good Sleep with Autopilot
Energy saving & convenience have been kept at the forefront for the device as the air conditioner turns off when optimum temperature is reached without any manual command.
Smart Clean
Built-in Auto Clean feature clears the evaporator from dust and odors, which enhances the AC's performance and saves maximum energy.
Innovation in lifestyle
Revamp the way you live & use E-Comfort Air Conditioner to revolutionize the present & pave an evolved future.