Orient Ac 1.5 Ton 18-G Orbit
Orbit is a monster from the Planet Series. With Catechin filters, instant cooling & heating are features of the air conditioner. The gold fin evaporator keeps the product rust-free ensuring maximum life and the low voltage operation & UPS/Generator compatibility make sure that you are comfortable even during low voltage or power outages. With 60% energy saving, the air conditioner is light on the pocket while still heavy on the quality.
Key Features
R410 eco-friendly refrigerant
Biggest Indoor Unit (1.1M)
The absolute beauty and grace of the indoor unit comes in a bigger form. 1M in size and several times more in function, the indoor unit is perfect for its function.
Energy Efficiency at its Peak
Furthermore the Energy consumption is reduced. Moreover the Energy efficiency is maximized as compared to other air conditioners.
4D Air Throw
The 4D Air Throw function of the indoor unit provides effective heating & cooling by spreading air in all directions, making sure the target temperature is achieved rapidly.
Auto Clean
Built-in Auto Clean feature clears the evaporator from dust and odors, which enhances the AC's performance and saves maximum energy.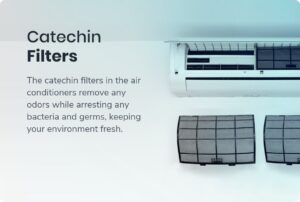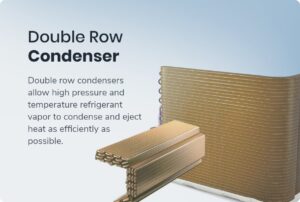 Rated Power Consumption (c)
---
Rated Power Consumption (h)
---
---
---
---
---